If countries were awarded for diversity, Malaysia would top first place. Not only is Malaysia a melting pot of ethnic cultures, but it is also a blend of many different customs, cuisines and religions all coexisting peacefully together. From large island groups to mountains and tropical rainforest, the country's geography is every bit as diverse. I'm sharing 10 places to visit in Malaysia.
What's more, Malaysia is a unique country in that is divided into two main landmasses. West Malaysia occupies the southern half of a peninsula shared with Thailand, while East Malaysia is situated on the Borneo island.
Let's explore best 10 places to visit in Malaysia.
Kuala Lumpur
A bustling city Kuala Lumpur serves as the capital of Malaysia. The country's most populous city, it has a landscape filled with innovatively designed skyscrapers, including the iconic Petronas Twin Towers, the world's tallest twin towers. City also boasts an outstanding Islamic Arts Museum. The Bukit Bintang pedestrian bridge that connects the downtown area, and a bird park that is the world's largest walk-in aviary.
Cameron Highlands
The Cameron Highlands is one of Malaysia's most extensive hill stations, first developed by the British in the 1920s. It has a population of more than 34,000 people consisting of Malays, Chinese, Indians and other ethnic groups. The Cameron Highlands is renowned for its trails. They lead visitors through the forest to waterfalls and other tranquil spots. Apart from its jungle walks the sanctuary is also known for its tea plantations and visitors can book several tea factory tours.
Malacca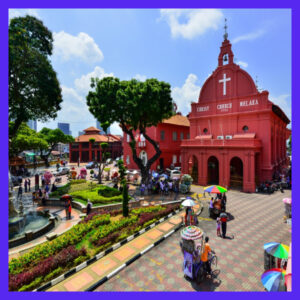 Lying on the west coast of the Malaysian peninsula, Malacca is a unique place to visit due to the British, Dutch and Portuguese all having ruled here at one point. As such, there is a wealth of colonial architecture to explore, with each nation having left its mark in terms of the buildings left behind and the cultural impact that they had. With a lively night market and a wide range of different cuisines, this charming city is understandably a popular tourist destination in Malaysia.
Mount Kinabalu
Towering 4095 meter above northern Borneo, Mount Kinabalu is the highest mountain between the Himalayas and the island of New Guinea. The main peak of the mountain can be climbed easily by a person with a good physical condition and requires no mountaineering equipment although climbers must be accompanied by guides at all times. For those with limited time or energy, there are gardens and many short walks through the jungle to enjoy in the vicinity of the entrance.
Langkawi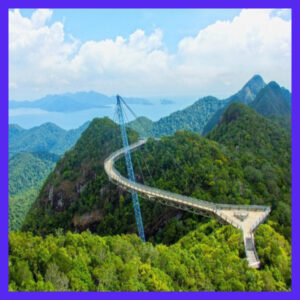 Malaysia's best-known holiday destination, Langkawi is an archipelago of 99 islands in the Andaman Sea. By far the largest of the islands is the eponymous Pulau Langkawi with a population of about 65,000. With its many diverse landscapes of beaches, mountains, rainforest and mangrove wetlands, Langkawi offers tourists a great variety of things to see and do. A popular activity here is to take a cable car ride and walk across the Sky Bridge to see incredible views across to Thailand.
Let's continue to explore remaining of 10 places to visit in Malaysia
Perhentian Islands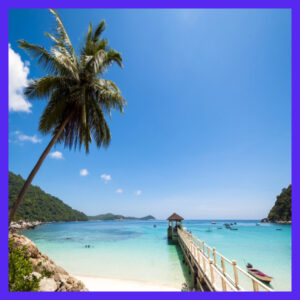 Located off the coast of northeastern Malaysia not far from the Thai border. The Perhentian Islands are the must-go place in Malaysia for budget travellers. The two main islands are Perhentian Besar, meaning "Big Perhentian" and Perhentian Kecil, meaning "Small Perhentian". They have some of Malaysia's most beautiful beaches and great diving with plenty of cheap accommodation. Visitors can also explore the tropical jungle that covers much of the islands' terrain.
Penang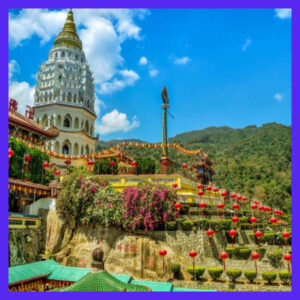 Historically regarded as the Pearl of the Orient because of its important location among the sea trade route, Penang is a colourful island shaped by its diverse culture, heritage and world-famous cuisine. A must-do here is a stroll around the historic Georgetown to see its colonial buildings, stately mansions and lovely temples. Visitors will find plenty of activities that range from excellent shopping to horse riding on the beach, photographing snakes in the Snake Temple, and cable car rides up to Penang Hill.
Gunung Mulu National Park
Famous for its extraordinary limestone karst formations and phenomenal cave systems, this is inspiring natural attractions in Southeast Asia. If you visit, you'll want to check out the Sarawak Chamber because it is big enough to hold 40 Boeing 747 aircraft and you'll also want to hike to the Paku Waterfall. While longer multi-day treks are possible, there are also plenty of shorter hikes which are just as scenic.
Taman Negara
Encompassing three states across the northern part of West Malaysia, Taman Negara is the oldest tropical rainforest in the world. A popular ecotourism destination is teeming in wildlife from rare plants to scarce animals like Malayan Tiger and Sumatran Rhinoceros. One of the most popular things to do in Taman Negara is the Canopy Walk, a long suspension bridge high above the treetops where visitors can walk and glimpse exotic birds.
Batu Caves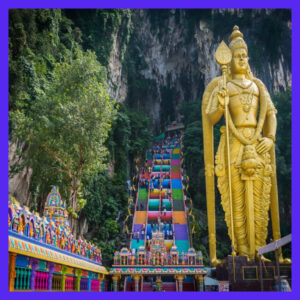 Travellers who make their way to Batu Caves near Kuala Lumpur will be rewarded with some pretty awesome Hindu art. The three main caves that make up Batu Caves make it the most popular Hindu shrine outside of India. It attract thousands of worshippers. The highlight of the site is a giant statue of a Hindu god, reached by climbing 272 steps to the Cathedral Cave. Monkeys also enjoy the site and can be seen playing there.
Please comment below your experience on the best places to visit in Malaysia.