All airports are unique but some airports are so amazing that they really stand out of all. Airline travel is always the thrilling experience whether it is for business, vacation or anything else. So far it is luxurious and will remain in same category in near future. In this list we're looking at airports with unique designs and facilities that make them attractions in their own. We have sorted top 10 unique airports around the world in 2021 | Best Airports.
"the journey is the destination"
Top 10 unique airports around the world in 2021 | Best Airports
10. Munich Airport – Munich, Germany
For those with a lengthy layover Munich airport has all the amenities one would expect first rate lounges a variety of restaurants and even a shopping centre. Since you're going to be cooped up in an airplane for few hours chances are you'll want to get some fresh air before takeoff. The mack forum is a large roofed open space where travellers can stretch their legs.
For further outdoor exploration make your way to visitors hill to get a view of the western flight line. The hill is part of visitors park which also features a playground for the kids and historic aircrafts. For anyone who wants to learn more about aviation who says that a trip to the airport can't be fun and educational
9. Amsterdam Airport – Schiphol, Netherlands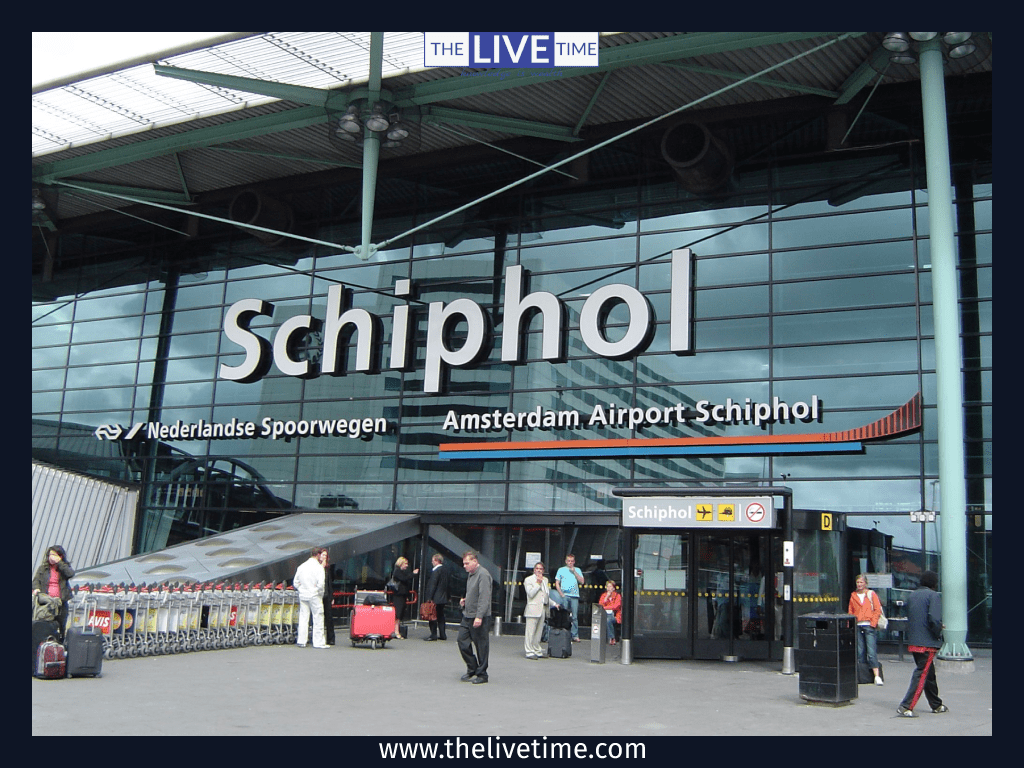 Amsterdam is a city that everybody should visit at least once if you're just passing through. However you can still get a taste of the culture without leaving the airport Schiphol because it has a library with about 2500 books and an outpost for the historic Rijksmuseum.
As the largest airport in the Netherlands you might not be sure where to begin exploring so why not sign up for the Skiphole. Experience this bus tour provides a behind-the-scenes look at the airport's history and operations. It's not everyday that you get an up-close look at an airport's hangars and fire station. Even if you're not staying the night we'd recommend checking out the Hilton Amsterdam Airport Schiphol for its unique cube design.
8. Changi Airport – Singapore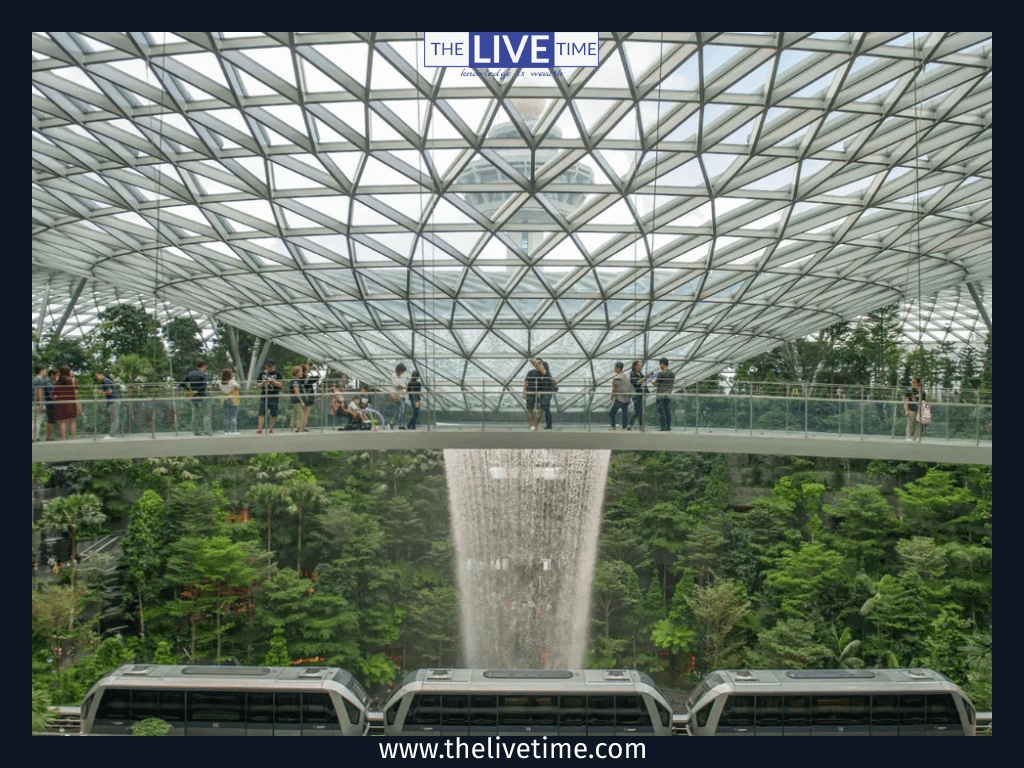 Singapore Changi ranked number one on Skytrax's list for airport of the year and not just in 2020 it's claimed this title for eight consecutive years. A record that's not going to be broken anytime soon Singapore Changi is one of the leading airports in terms of cleanliness, terminal presentation and sheer entertainment value.
At virtually any other airport waiting at baggage claim is about as exciting as watching paint dry here however the spacious area and decorative trees make for a surprisingly invigorating experience that's only the beginning as you'll want to explore the gardens and see the rain vortex earth's tallest indoor waterfall this is less like an airport and more like a shopping mall that just so happens to have planes.
7. Kansai International Airport – Osaka, Japan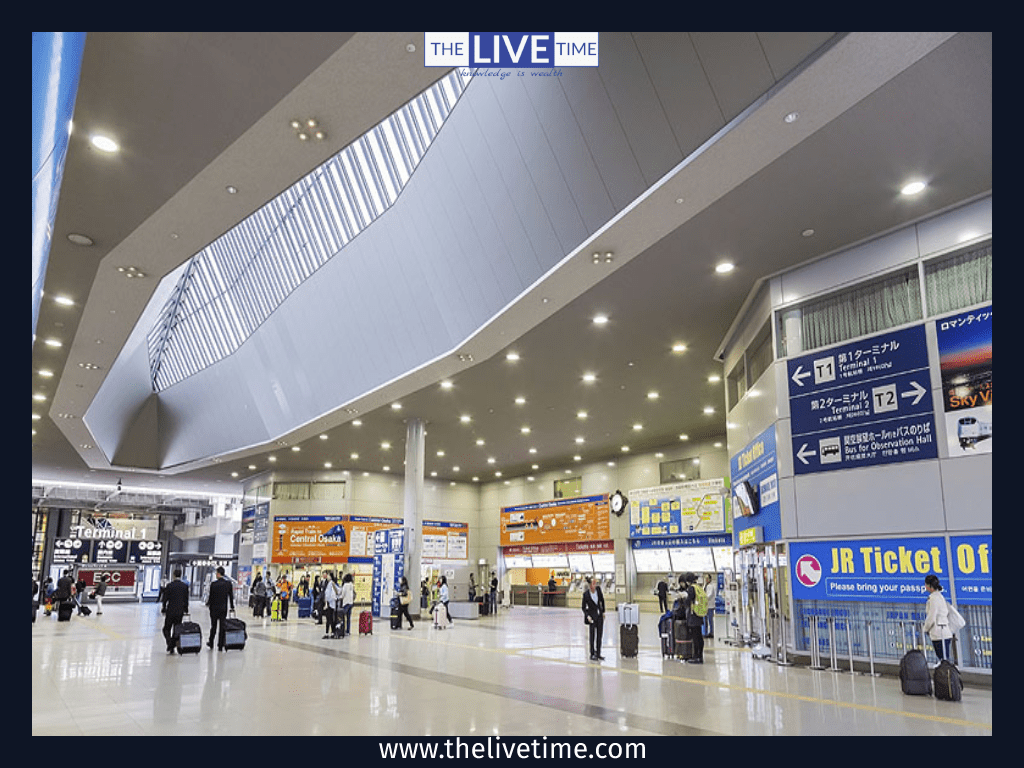 Kansai International Airport is a very impressive airport which is spread in 4 square miles area. One of the reasons is an artificial island was constructed just to build it. The airport has gradually sunk since it opened in 1994. Also this design is not without its dangers, as several times the airport has suffered from flooding caused by a tornado.
Kansai was named Best Airport Staff in Asia, World's Best Airport Staff and World's Best Airport for Baggage Delivery in 2020. After construction the rate of sinking was considered so severe that the airport was widely criticised as a geotechnical engineering disaster.
6. Princess Juliana International Airport –  Simpson Bay, Sint Maarten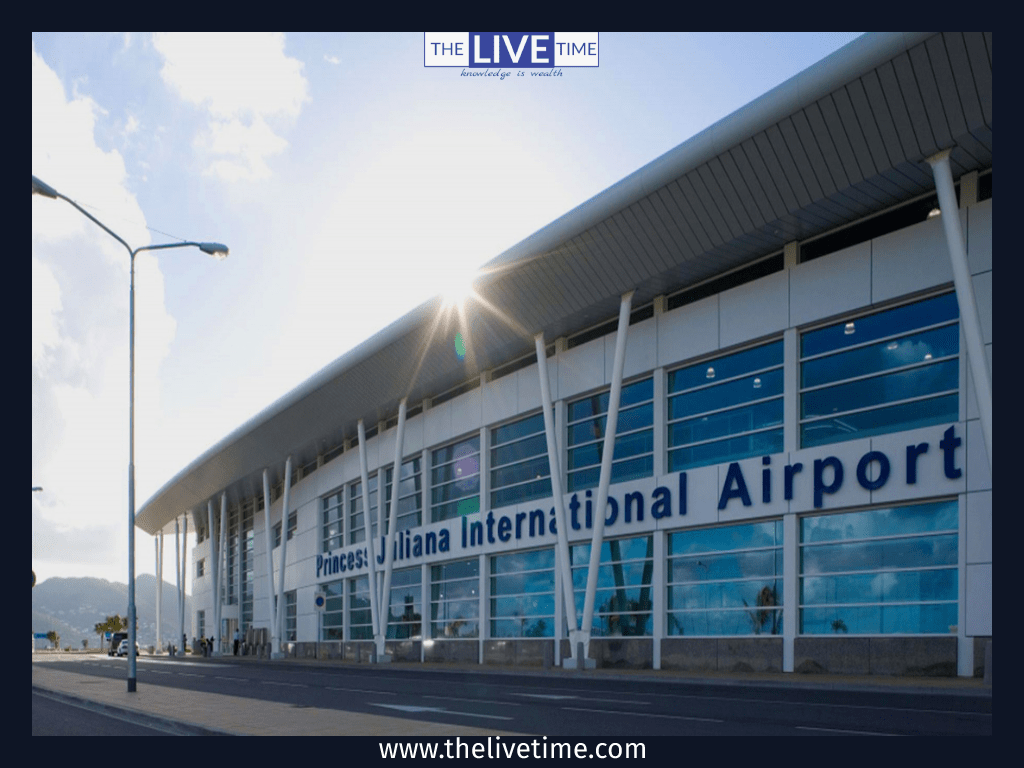 The St Maarten airport is known popularly as the Princess Juliana International Airport and serves as the main airport for the St Maarten, a Carribean island. Serving as a gateway for Leeward Islands, it is named after the crown princess of Netherlands, Juliana.
The runway for the airport is very close to the Maho beach. The airport's runway is just over 7,500 feet in length, which puts it right on the limit for larger jets arriving. This translates to aircraft having to use every single foot of runway, and serves for very low aircraft passing over the water at the end of the runway on arrival.
So far we saw 5 of the Top 10 Unique Airports around the world in 2021. Let's check remaining 5 of the list.
5. Beijing Daxing International Airport – Beijing, China
Beijing Daxing International Airport is built on a 2,679.01ha (6,620 acres) site located 46km south of Beijing's political centre, Tiananmen Square. The project included the construction of airline bases, an intercity railway, high-speed subway, highway and air traffic control tower. Beijing Daxing Airport incorporates energy-saving green concepts, allowing natural light into the building. Renewable energy accounts for more than 10% of the energy consumed by the airport.
The airport also implements rainwater collection and a water management system that employs the natural storage, natural permeation and natural purification of up to 2.8 million cubic meters of water in new wetlands, lakes and streams to prevent flooding and counter the summer 'heat island' effect on the local microclimate.
4. Dubai International Airport – Dubai, United Arab Emirates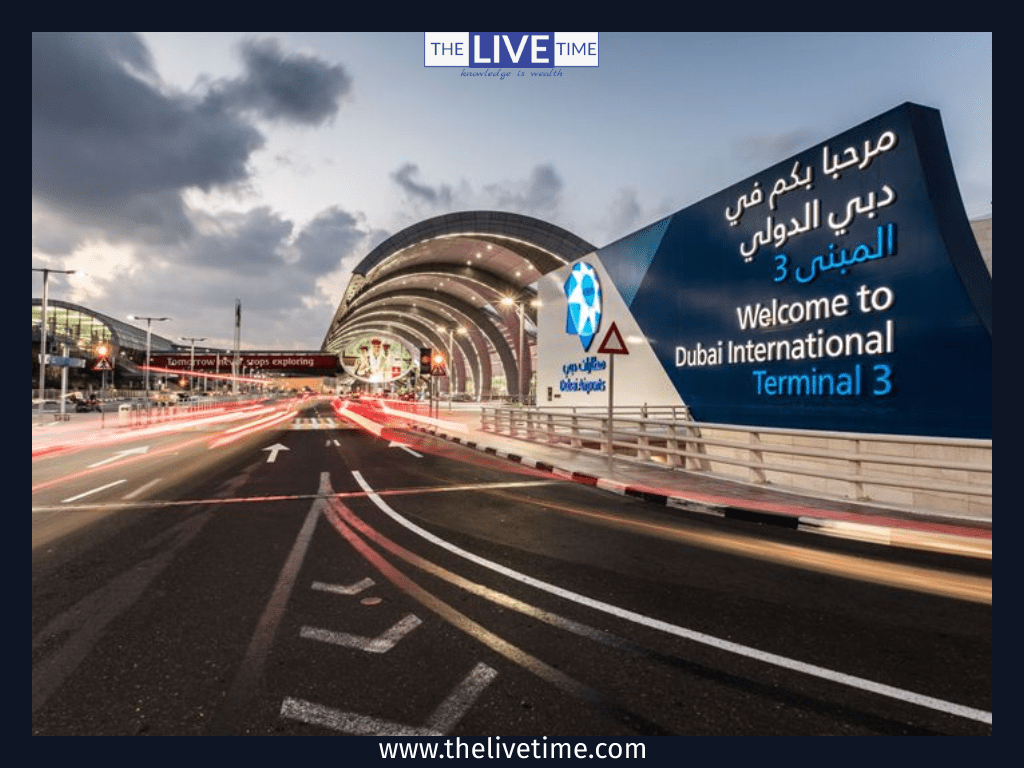 Dubai International Airport or DXB stands out as the sixth busiest airport by cargo and the fourth busiest in terms of passenger traffic. You think making your way through such an active airport would be stress inducing. This international travel hub creates a calming atmosphere however with its sleek modern architecture while the airport is busy. It thankfully doesn't lack for space terminal 3 is the largest in the world and for a period it held the record for the biggest building overall.
This is one airport where layover time is welcomed thanks to terminal 3's zen garden and kid zone with over 100 places to grab a bite. Luxurious lounges and personal sleep pods dxb knows how to accommodate its visitors.
3. Incheon International Airport – Incheon, South Korea
In 2020 the skytrax consultancy ranked Incheon International as the second cleanest airport in the world. It also came in first for the best transit airport and best terminal the latter honour went to terminal 2 which opened in early 2018. With cultural performances diverse artwork and a spotless aesthetic, we can see why of course this doesn't mean you should sleep on terminal 1 and its virtual reality area.
Speaking of innovative technology, Incheon International is also home to airstar a multilingual passenger aiding robot complete with a touchscreen monitor. Airstar will not only give you directions but also answer your boarding questions and take a selfie with you it's not the airport's only robot either as you can also grab coffee at a smart cafe.
2. Hamad International Airport – Munich, Germany
This is the newest entry on our list as such everything about the Hamad International Airport feels fresh from the architecture to the technology. The passenger terminal's curvy design calls sand dunes to mind providing a preview of what to expect in parts of Qatar.
In july 2020 it was announced that the airport would introduce screening technology that would allow people to pass through security without having to remove their electronic devices. While the airport hosts a few unique art pieces the standout is lamp bear a massive bronze teddy bear sculpture with its head up a lamp. Once displayed at New York's seagram building it was bought at auction by a Qatari Royal Family member for 6.8 million dollars.
1. Heathrow Airport – London, United Kingdom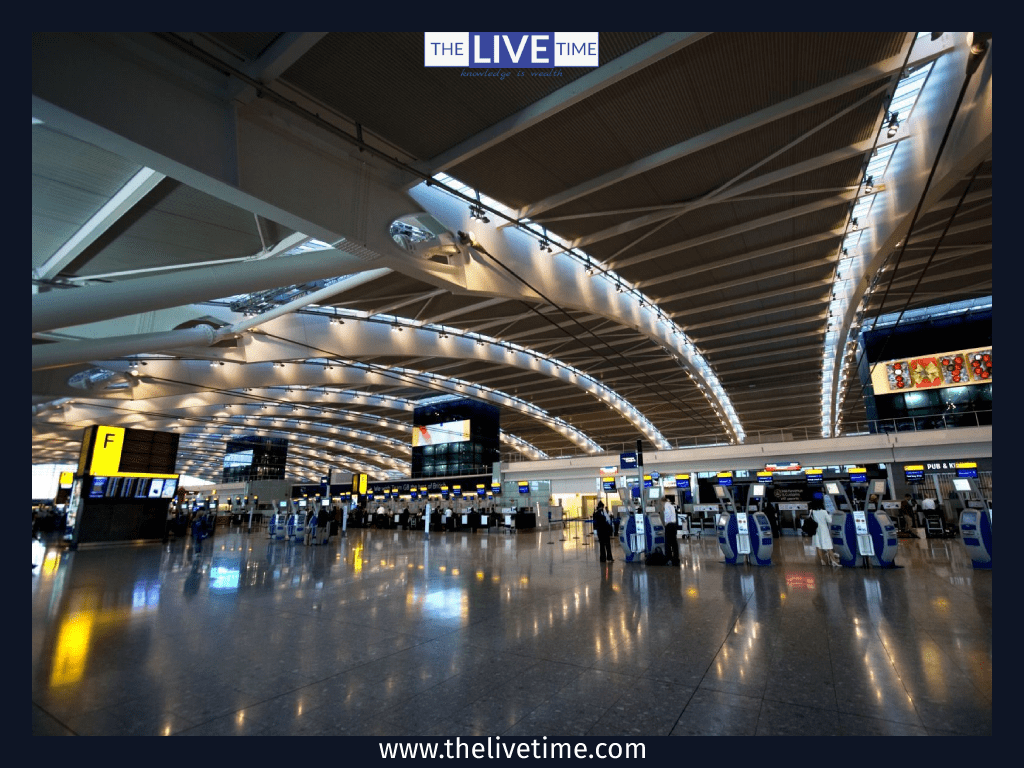 Now more than ever cleanliness is one of the most important attributes that travellers look for in an airport. For those visiting the UK, you'll be happy to know that Heathrow has a squeaky clean reputation not only are there plenty of hand sanitising stations but the airport started using uv cleaning robots to prevent the spread of Covid19.
Heathrow has also etched out its place as one of the most instagrammable airports with its street art exhibitions exhibits like colette miller's global angel wings project have made its way to the airport providing amazing photo ops tourists have reached for the balloons in front of rogue one's floating taxi piece as well then take in the aesthetic with a cappuccino and a croissant.
That is the end of list for Top 10 Unique Airports around the world.
Follow The Live Time on Facebook & Twitter.
Other articles you may like to read…
What are your views on Top 10 Unique Airports around the world? Let us know in the comments below if you have some more unique airports list other than this.