Life is an amazing journey which is meant to be embraced to the fullest every day. But, it doesn't mean you wake up ready to grab it, and you need a reminder that life is a great gift. Whether a funny quote from a famous celebrity or an encouraging message about giving it your best from a successful business person, we can all use a little motivation and inspiration these days via a life quote. Let's have a look at these 100 motivational quotes to inspire in life – stay positive to give you an extra pep in your step whenever you may need it. Keep these life quotes bookmarked on your phone or computer to pull up and scroll through whenever you need a little help with motivation.
"Everything you can imagine is real."

– Pablo Picasso
"If you don't have a competitive advantage, don't compete."

– Jack Welch
"Believe in yourself, take on your challenges, dig deep within yourself to conquer fears. Never let anyone bring you down. You gotta keep going."

– Chantal Sutherland
"Everything you can imagine is real."

– Pablo Picasso
"The world is full of nice people. If you can't find one, be one."

– Unknown
"I am thankful for all of those who said NO to me. It's because of them I'm doing it myself."

– Wayne W. Dyer
"If you don't get out of the box you've been raised in, you won't understand how much bigger the world is."

– Angelina Jolie
"If you're too comfortable, it's time to move on. Terrified of what's next? You're on the right track."

– Susan Fales-Hill
"It's Not Whether You Get Knocked Down, It's Whether You Get Up."

– Vince Lombardi
"If You Are Working On Something That You Really Care About, You Don't Have To Be Pushed. The Vision Pulls You"

– Steve Jobs
"Entrepreneurs Are Great At Dealing With Uncertainty And Also Very Good At Minimising Risk. That's The Classic Entrepreneur."

– Mohnish Pabrai
"We Generate Fears While We Sit. We Overcome Them By Action."

– Dr. Henry Link
"Security Is Mostly A Superstition. Life Is Either A Daring Adventure Or Nothing."

– Helen Keller
"To See What Is Right And Not Do It Is A Lack Of Courage"

– Confucius
"Fake It Until You Make It! Act As If You Had All The Confidence You Require Until It Becomes Your Reality."

– Brian Tracy
"One Of The Lessons That I Grew Up With Was To Always Stay True To Yourself And Never Let What Somebody Else Says Distract You From Your Goals."

– Michelle Obama
"The Only Way To Do Great Work Is To Love What You Do. If You Haven't Found It Yet, Keep Looking. Don't Settle"

– Steve Jobs
"Try not to become a person of success, but rather try to become a person of value."

– Albert Einstein
"If you are not willing to risk the usual you will have to settle for the ordinary"

– Jim Rohn
"What seems to us as bitter trials are often blessings in disguise."

– Oscar Wilde
"Thinking should become your capital asset, no matter whatever ups and downs you come across in your life"

– A.P.J. Abdul Kalam
"We become what we think about most of the time, and that's the strangest secret."

– Earl Nightingale
"A real entrepreneur is somebody who has no safety net underneath them"

– Henry Kravis
"Develop success from failures. Discouragement and failure are two of the surest stepping stones to success."

– Dale Carnegie
"If you don't design your own life plan, chances are you'll fall into someone else's plan. And guess what they have planned for you? Not much"

– Jim Rohn
"If you want to make a permanent change, stop focusing on the size of your problems and start focusing on the size of you!"

– T. Harv Eker
"The number one reason people fail in life is because they listen to their friends, family, and neighbours."

– Napoleon Hill
"Motivation is what gets you started. Habit is what keeps you going."

– Jim Ryun
"A goal is not always meant to be reached; it often serves simply as something to aim at"

– Bruce Lee
"To accomplish great things, we must not only act, but also dream, not only plan, but also believe."

– Anatole France
"It is better to fail in originality than to succeed in imitation."

– Herman Melville
"You may have to fight a battle more than once to win it"

– Margaret Thatcher
"Don't let what you cannot do interfere with what you can do."

– John R. Wooden
"The question isn't who is going to let me; it's who is going to stop me"

– Ayn Rand
"Action may not always bring happiness; but there is no happiness without action."

– Benjamin Disraeli
"If you have everything under control, you're not moving fast enough."

– Mario Andretti
"The road to success and the road to failure are almost exactly the same"

– Colin R. Davis
"Remember that not getting what you want is sometimes a wonderful stroke of luck."

– Dalai Lama
"A successful man is one who can lay a firm foundation with the bricks others have thrown at him"

– David Brinkley
"Perfection is boring. Getting better is where all the fun is."

– Dragos Roua
"There are two ways of spreading light. To be the candle, or the mirror that reflects it"

– Edith Wharton
"The future belongs to those who believe in the beauty of their dreams."

– Eleanor Roosevelt
"Every now and then it's good to stop climbing and appreciate the view from right where you are."

– Lori Deschene
"It's not what you look at that matters, it's what you see"

– Henry David Thoreau
"There is only one motivation, and that is desire. No reasons or principle contain it or stand against it"

– Jane Smiley
"The work you do when you procrastinate is probably the work you should be doing for the rest of your life"

– Jessica Hische
"There are two kinds of people in this world; those who want to get things done, and those who don't want to make mistakes."

– John C. Maxwell
"Always remember that you are absolutely unique; just like everyone else."

– Margaret Mead
"The only person you should try to be better than, is the person you were yesterday"

– Matty Mullens
"All progress takes place outside the comfort zone"

– Michael John Bobak
"To be successful you must accept all challenges that come your way. You can't just accept the ones you like."

– Mike Gafka
"The starting point of all achievement is desire"

– Napoleon Hill
"Change your thoughts and you change your world."

– Norman Vincent Peale
"There are only two options regarding commitment. You're either in or you're out. There is no such thing as life in-between"

– Pat Riley
"The tragedy in life doesn't lie in not reaching your goal. The tragedy lies in having no goal to reach"

– Benjamin Mays
"When we strive to become better than we are, everything around us becomes better too."

– Paulo Coelho
"The difference between the impossible and the possible lies in a person's determination."

– Tommy Lasorda
"You don't drown by falling in water; you drown by staying there."

– Robert Collier
"Don't live the same year 75 times and call it a life."

– Robin Sharma
"If you're offered a seat on a rocket ship, don't ask what seat! Just get on."

– Sheryl Sandberg
"Keep your eyes on the stars, and your feet on the ground."

– Theodore Roosevelt
"The individual who says it is not possible should get out of the way of those doing it."

– Tricia Cunningham
"When one door of happiness closes, another opens, but often we look so long at the closed door that we do not see the one that has been opened for us."

– Helen Keller
"Certain things catch your eye, but pursue only those that capture the heart."

– Ancient Indian Proverb
"How wonderful it is that nobody need wait a single moment before starting to improve the world."

– Anne Frank
"All men who have achieved great things have been great dreamers."

– Orison Swett Marden
"Dream as if you'll live forever, live as if you'll die today."

– James Dean
"If you can imagine it, you can achieve it; if you can dream it, you can become it."

– William Arthur Ward
"Focus on the journey, not the destination. Joy is found not in finishing an activity but in doing it."

– Greg Anderson
"Nurture your mind with great thoughts. To believe in the heroic makes heroes."

– Benjamin Disraeli
"My attitude is that if you push me towards something that you think is a weakness, then I will turn that perceived weakness into a strength."

– Michael Jordan
"Put your heart, mind, and soul into even your smallest acts. This is the secret of success."

– Swami Sivananda
"If you're going through hell, keep going"

– Winston Churchill
"The task of leadership is not to put greatness into people, but to elicit it, for the greatness is there already"

– John Buchan
"Do what you have to do until you can do what you want to do"

– Oprah Winfrey
"When you reach the end of your rope, tie a knot in it and hang on"

– Franklin D. Roosevelt
"It does not matter how slowly you go as long as you do not stop"

– Confucius
"Reading is to the mind what exercise is to the body"

– Joseph Addison
"Ever tried. Ever failed. No matter. Try again. Fail again. Fail better"

– Samuel Beckett
"There is no substitute for hard work"

– Thomas Edison
"Keep a little fire burning; however small, however hidden"

– Cormac McCarthy
"The reason we struggle with insecurity is because we compare our behind-the-scenes with everyone else's highlight reel."

– Steve Furtick
"Doubt is a killer. You just have to know who you are and what you stand for"

– Jennifer Lopez
"You can't be that kid standing at the top of the waterslide, overthinking it. You have to go down the chute."

– Tina Fey
"Success is stumbling from failure to failure with no loss of enthusiasm"

– Winston Churchill
"Get a good idea and stay with it. Dog it, and work at it until it's done right"

– Walt Disney
"Life is like riding a bicycle. To keep your balance you must keep moving"

– Albert Einstein
"It's not the will to win that matters—everyone has that. It's the will to prepare to win that matters"

– Paul Bryant
"Never give up on a dream just because of the time it will take to accomplish it. The time will pass anyway"

– Earl Nightingale
"Experience is a hard teacher because she gives the test first, the lesson afterwards"

– Vernon Sanders Law
"Don't look at your feet to see if you are doing it right. Just dance"

– Anne Lamott
"He that can have patience can have what he will"

– Benjamin Franklin
"Take your victories, whatever they may be, cherish them, use them, but don't settle for them"

– Mia Hamm
"Money and success don't change people; they merely amplify what is already there."

– Will Smith
"Not how long, but how well you have lived is the main thing"

– Seneca
"The whole secret of a successful life is to find out what is one's destiny to do, and then do it."

– Henry Ford
"The big lesson in life, baby, is never be scared of anyone or anything"

– Frank Sinatra
"Everything negative – pressure, challenges – is all an opportunity for me to rise"

– Kobe Bryant
"In three words I can sum up everything I've learned about life: It goes on"

– Robert Frost
"Life is ten percent what happens to you and ninety percent how you respond to it"

– Charles Swindoll
"Life would be tragic if it weren't funny."

– Stephen Hawking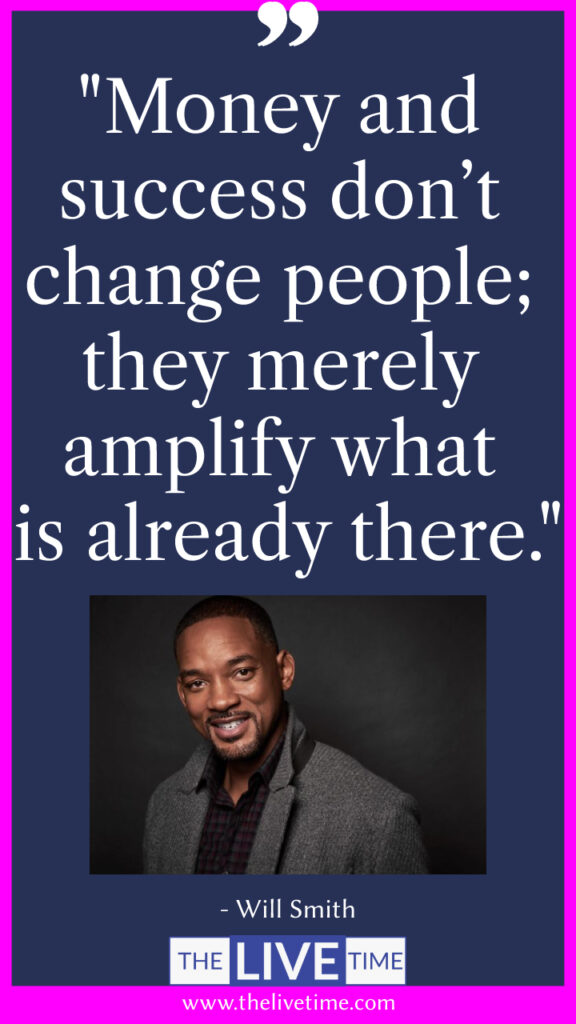 Let us know your favourite quote below in comment section which motivates you in life.