Dubai is a modern city known for luxury shopping, ultra-modern architecture and the beauty of nightlife. Here all tourist spots supersedes one another. I'll explain popular 7 places to visit in Dubai.
Let's read how to reach those places, about the tickets, and what else can you do there. And many other such pieces of information related to those 7 places to visit in Dubai.
Burj Khalifa
No doubt! Burj Khalifa is the world's tallest standing structure. The height of which is 828 meters. It has registered 7 world records on its name. And these world records include it being the tallest building, tallest free-standing structure, the highest number of stories, highest occupied floor, highest outdoor observation deck, elevator with the longest travel distance and the biggest and tallest elevator service.
And with these 7 world records Burj Khalifa registered its name in one the best structures. It's very easy to reach there. Burj Khalifa is situated in the downtown area of Dubai where you can glimpse Dubai Mall and Dubai Fountain. It's just few miles away from the airport.
Desert Safari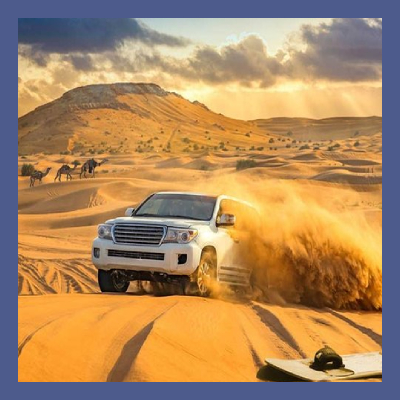 Dubai's Desert safari is believed to be the world's best desert safari. Desert safari is 6-7 hours of the thrilling and entertaining tour. It includes dune bashing, camel ride, entertainment shows like belly dancing, and fire shows. This desert safari tour comes with buffet dinner, buffet lunch, and transportation also. Desert safari starts with an air-conditioned luxurious car, a land cruiser that takes you to the desert.
The first thing to do is Dune Bashing and other activities will be conducted as per package. The timings of Desert safari are from 3pm to 9pm for a half-day package. Dune bashing is an extremely rough sport and it is not advisable for pregnant ladies and children.
Palm Jumeirah Island
Let's talk about Palm Jumeirah. An island made in the form of a tree. Palm Jumeirah is known for luxury hotels, posh apartment towers and upmarket global restaurants. The food offered for snacks like shawarma that highlights Jumeirah boardwalk. And Burj-Al-Arab situated at the ocean coast showers its beauty. During evening time, beautiful beaches, clubs with spa and infinity pool turn into night clubs and live DJ.
Palm Jumeirah is for private residence and hotels and you can discover amazing things like five-star hotels and amazing restaurants. This place is also good for sightseeing. And there are no given timings and tickets to visit this place. You can visit Palm Jumeirah anytime.
Let's continue to explore remaining of 7 places to visit in Dubai.
La Mer Beach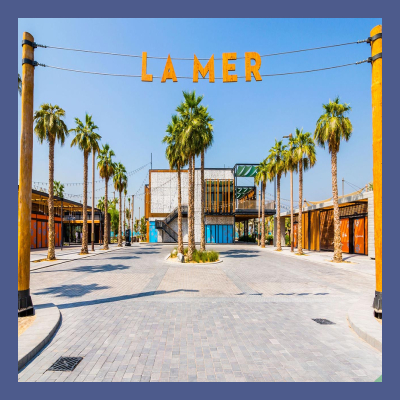 The La Mer beach is situated at Jumeirah one island of Dubai. No fees are charged to visit there. It remains open from 10am to 10pm. La Mer beach is a very well developed beach. Dubai's famous Lagoona water park is also situated on the La Mer beach. You can enjoy all the beach activities on the ocean coast of Dubai that are a lamer beach. It will take a maximum of 3 to 4 hours to explore the entire la mer beach. Do not forget to bring your swimming costume and floaters while visiting this place.
Dhow Dinner Cruise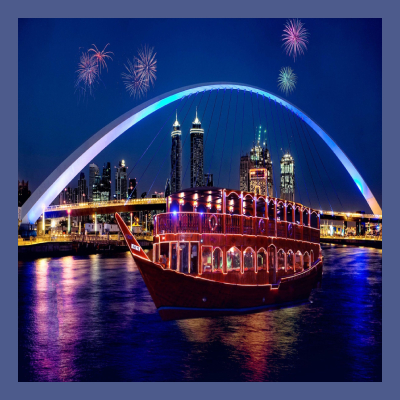 The Dhow Dinner Cruise is a dinner cruise that travels across the creek of Dubai river. This ride continues for 2 hours and you will have an amazing experience being there. From this cruise, you can also have a glimpse of the gold souk market situated on the coast of the creek river.
Your dinner and entertainment packages are included in the Dhow dinner cruise. At the upper deck, you will find a dinner buffet. And its lower deck is fully air-conditioned so in case you feel hot then you can go there. Both vegetarian and non-vegetarian food is available. It usually starts at 6 o'clock in the evening and it travels across both the rivers that are Creek River and Marina.
IMG World of Adventure
IMG world of adventure is the world's biggest temperature-controlled indoor theme park. It is divided into 4 zones. First is the marvel zone. You can find distinct and exclusive rides for different marvel characters. Along with the most terrifying rides, roller coaster rides are also available. Third part is cartoon network zone which proves to be an amazing place for both kids as well as adults. There is also Novo cinema to watch movies.
Gold Souk Market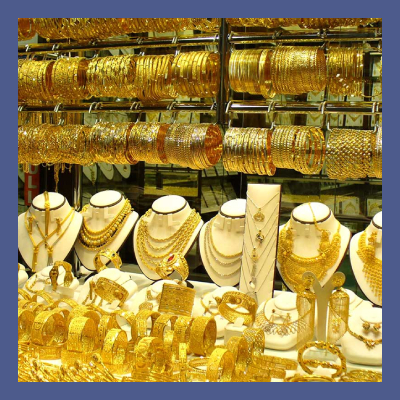 Dubai's most famous gold market is Dubai's Gold Souk market. More than 380 retail jeweller shops are there in market and some are older than 4 decades. The major selling items in this market are gold, platinum, diamond, and sometimes silver too. Dubai's Gold Souk market is located near the Deira area of Dubai which is adjacent to the Creek river of Dubai.
In order to reach the gold souk market of Dubai you can either book a taxi from your hotel or opt Dubai metro. There is no entry charge to enter into the gold souk market and the timings are from 10am to 10pm. One can easily find public convenience over there.
Please comment below your experience of Dubai visit and other interesting places in your mind.