Israel, The meeting place of cultures, religions, empires and cultures since beginning.Advanced country with rich history. This article will explain tourist attraction cities in Israel which you may not know. Discover 15 Famous Tourist Places to Visit in Israel and make your plan for visit to beloved country.
Jaffa
Population: 100,000
Area: 52 km²
A beautiful view of honey-coloured stone, Jaffa City is a relaxed little harbour town with a prominent past as a vital port. Jaffa City is home to an excellent flea market and a heaven for café-hopping and lazy afternoon sightseeing.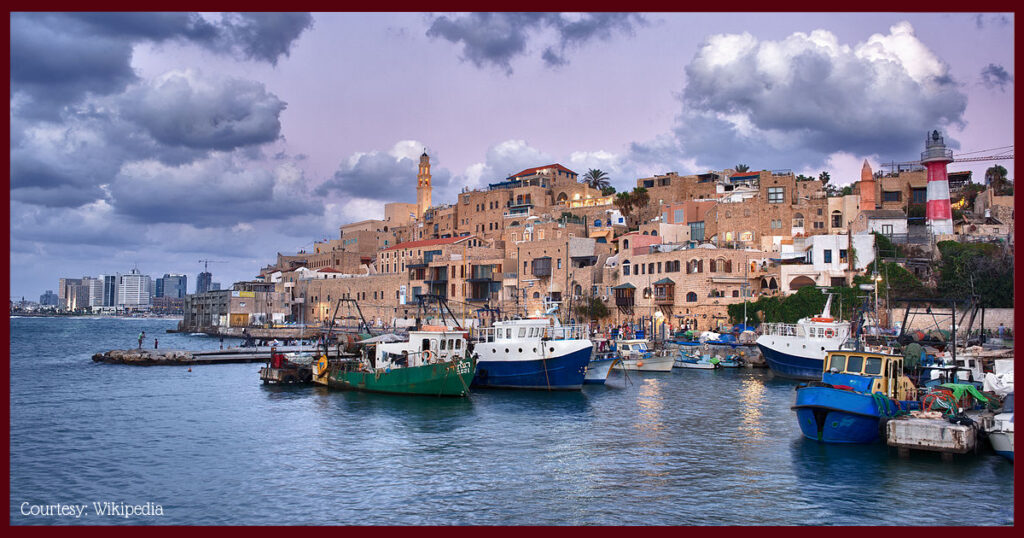 Places to Visit in Jaffa
The Ancient Jaffa Port
A Large Flea Market
An Artists Quarter
Fine Restaurants
A Mixed Population of Arabs and Jews
Great views of Tel Aviv
---
Herzliya
Population: 83,600
Area: 26 km²
Herzliya was named after Theodor Herzl, the founder of modern Zionism. City is located in the central coast of Israel. It is home to ambassadors, foreign diplomats, company headquarters and businessmen. Herzliya Beach is located in the upscale neighbourhood just north of Tel Aviv.
Places to Visit in Herzliya
Herzliya Marina
Apollonia National Park
Acadia Beach
Herzliya Park
Shivat Hakohavim Mall
Herzliya Museum of Contemporary Art
Arena Mall
Sidna Ali Mosque
Van Gogh
---
Tel Aviv – Yafo
Population: 432,892
Area: 52 km²
Tel Aviv is situated in the Mediterranean and has long, wide, clean and beautiful beach. Beach has restroom and outdoor shower facilities at most locations. You can rent a lounge chair at some locations. Vendors often walk the beaches selling ice cream and drinks, and restaurants and cafes line the sand. Best way to enjoy here is to sit on the beach during sunset time and watching the surfers as the sun goes down.
Tel-Aviv is home to an internationally acclaimed collection of International Style houses. So called White City is actually part of Tel Aviv's central Lev Ha'ir district.
Places to Visit in Tel Aviv – Yafo
Tayelet
Old Tel Aviv Port Area
Jaffa Old City
Palmach Museum
Tel Aviv Museum of Art
Neve Tzedek
Carmel Market (Shuk Ha'Carmel)
Rothschild Boulevard
Sarona Market
---
Eilat
Population: 45,588
Area: 84.79 km²
Eilat is only Red Sea resort in Israel. It's situated in between Jordan and Egypt. Red Sea diving is biggest tourist attraction here. The south part of town has fantastic underwater world of Coral Beach Reserve. While north part of the town has naturally sculpted world of Timna Park with strangely shaped rocks and incredible landscapes.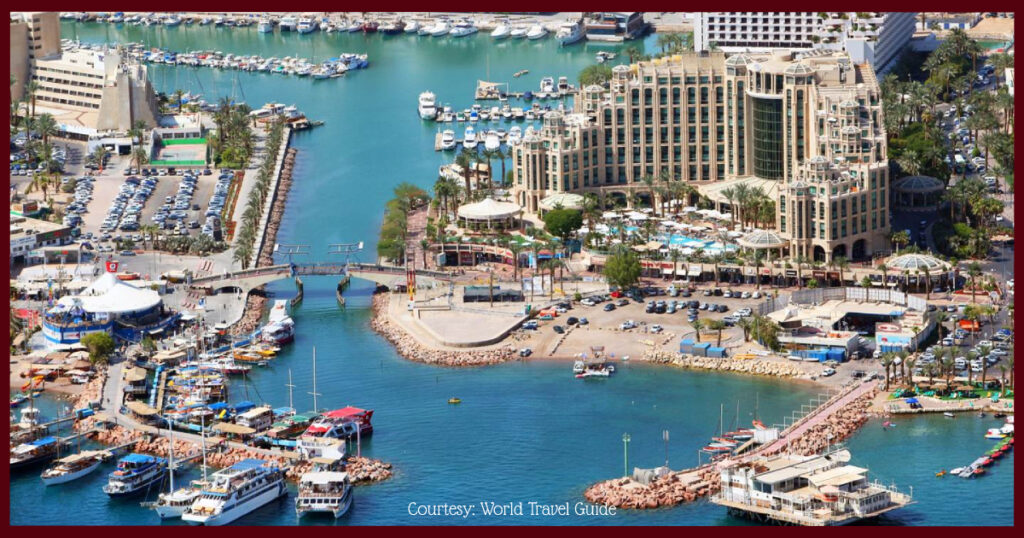 Places to Visit in in Eilat
Timna Park
Isrotel Theatre
Dolphin Reef
Underwater Observatory Marine Park
Musical Fountain
Red Canyon
Coral Beach Nature Reserve
Mosh Beach
Ice Mall
Princess Beach
---
Holon
Population: 165,787
Area: 19.2 km²
Holon city is named after a Hebrew word, Holon, which means sand. It is Israel's one of the largest industrial zones after Haifa. City has recovered drastically after 2001 terrorist attack and has got beautiful attractions for tourist.
Places to Visit in Holon
Yamit Water Park
Ariel Sharon Park
Design Museum Holon
Gordon Beach
Peres Park
Hai Kef
Dialogue In The Dark
Egged Bus Museum
Israeli Children's Museum
Japanese Garden
Puppet Museum
---
11 Places to visit in Singapore
Let's explore remains of 15 Famous Tourist Places to Visit in Israel.
Jerusalem
Population: 801,000
Area: 125.1 km²
Known as "the Holy City" (in Arabic, al-Quds) of major religions like Judaism, Christianity and Islam, Jerusalem is one of the Israel's oldest cities. Jerusalem City is situated on the top of Judean Mountains. City is home to many historic sites preserved by locals and hence it is one of the most beautiful cities in the world.
The oldest part of the city was settled in the 4th millennium BCE. In 1538, walls were built around Jerusalem under Suleiman the Magnificent. Todays those walls are traditionally divided into four different quarters namely Jewish, Christian, Armenian and Muslim and all has a unique characters worth experiencing. Modern Jerusalem has grown far beyond the Old City's boundaries.
Places to Visit in Jerusalem
Yad Vashem – The World Holocaust Remembrance Center
Western Wall
Garden of Gethsemane
Monte das Oliveiras
Église du Saint-Sépulcre
Old City of Jerusalem
The Western Wall Tunnels
Monte das Oliveiras
Mahane Yehuda Market
Biblical Zoo
Israel Museum
The Garden Tomb
---
Haifa
Population: 267,300
Area: 63.67 km²
Modern city Haifa (חֵיפָה) is the third largest city of Israel. There are many cultural centres, beautiful gardens, gorgeous museums to visit in the City. The Cave of Elijah is one the interesting place to visit as it has historical and religious importance.
Part of UNESCO World Heritage, The Hanging Gardens are treat to watch. Bahai Garden known for its immaculately manicured and perfectly gorgeous view is sure stop for tourist. Haifa has Israel's only subway: a single line with 6 stops.
Places to Visit in Haifa
Dado Beach
The Baha'i Gardens
Carmel National Park
Louis Promenade
Hanging Bridge at Nesher Park
Clandestine Immigration and Naval Museum
The German Colony
Stella Maris Lighthouse and Carmelite Monastery
Yefe Nof Street
---
Safed (Tzefat)
Population: 27,816
Area: 29.2 km²
Located at an elevation of 900 metres, Safed is the highest city in the Galilee and in Israel. Safed has been identified with Sepph, a protected town in the Upper Galilee mentioned in the writings of the Roman-Jewish historian Josephus. Safed/Tzefat city is situated in the Northern District of Israel. Safed witnesses warm summers and cold, often snowy, winters due to high elevation.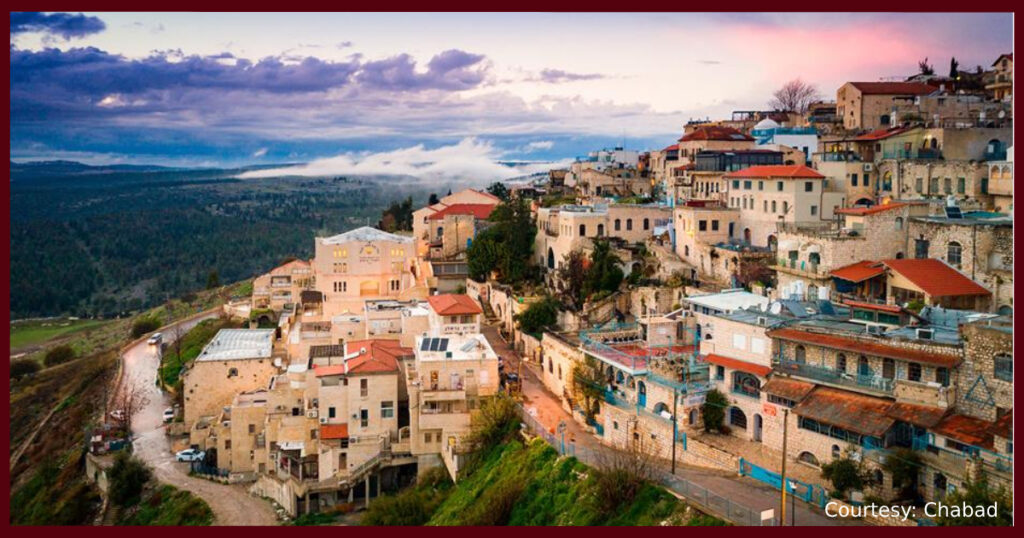 Places to Visit in Safed / Tzefat
Abuhav Synagogue
Bat Ya'ar Ranch
The Tzfat Kabbalah Experience
The Ashkenazi HaAri Synagogue
Yosef Caro Synagogue
The Abouhav Winery
The Sephardic Synagogue of the Ari
Olive Tree Fine Art Gallery
Soul and Art Fine Art Gallery
---
Acre
Population: 45,603
Area: 13.53 km²
The historic coastal city of Acre has been recognised with UNESCO World Heritage status for its atmospheric charms. Acre City known for medieval Baha'i Gardens, Ottoman-era walls, Crusader buildings and a tangle of ancient streets with bags of personality. It is rarely attracted tourist site compared to other cities offers great restaurants and world class hotel experience. A classic Arabic market is must visit place.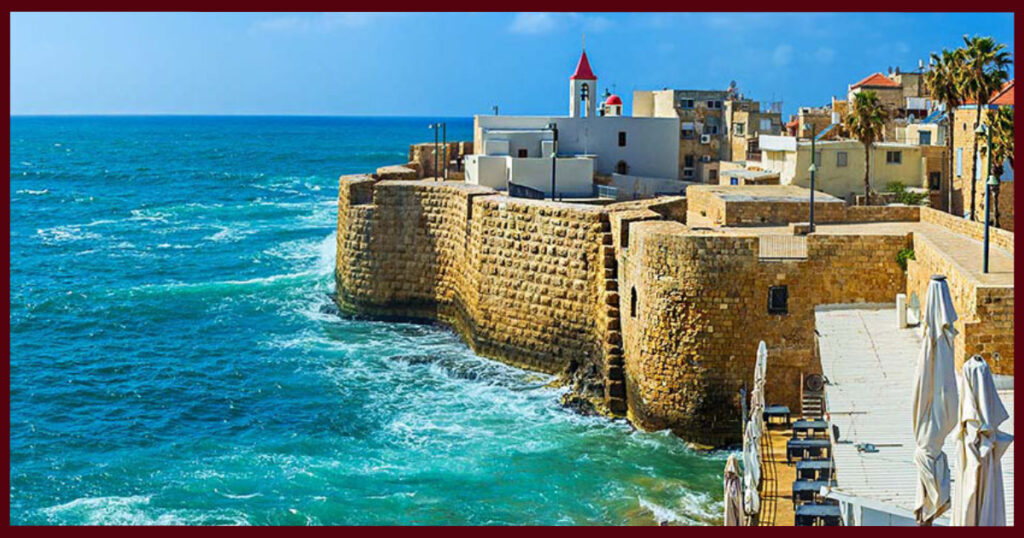 Places to Visit in Acre
Ahmed Al-Jazzar Mosque
Citadel
Crusader City
Khan al-Umdan
Lohamei HaGetaot
Fortifications
St. John's Church
Akko Harbour
Hammam al-Pasha Museum
Old Town Souk
Bahje Baha'i Centre
---
Ashdod
Population: 224,656
Area: 47.24 km²
Home to the largest Moroccan Jewish community, Ashdod is Israel's sixth largest city. Ashdod is located in the Southern District of the country and is largest seaport for imported goods in Israel. City is a popular destination for cruise ships from lines like Silversea, Celebrity, Azamara and Oceania. The Ashdod Cruise Terminal is the gateway for Tel Aviv, Jerusalem, and the Holy Land.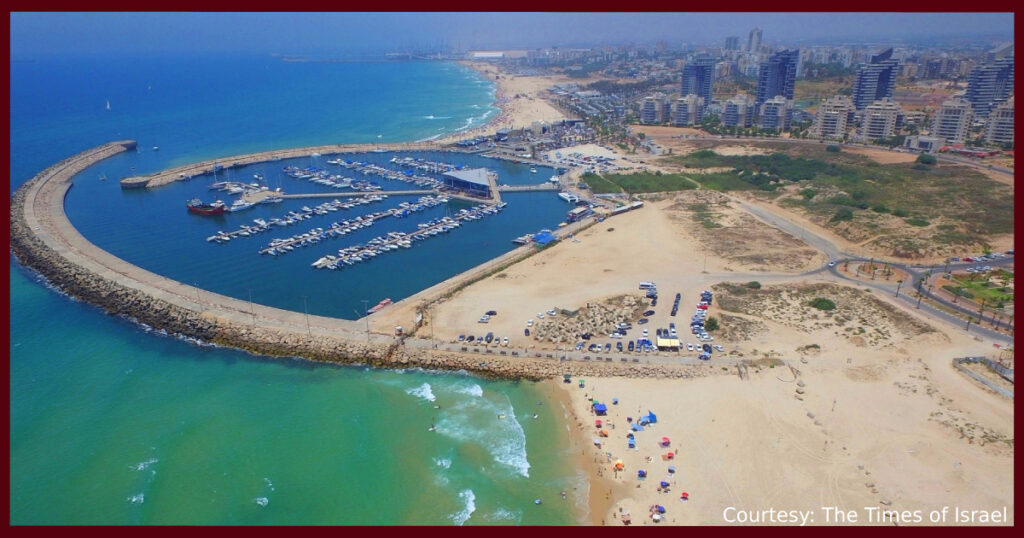 Places to Visit in Ashdod
The Eye of the Sun
Big Fashion Mall Ashdod
Givat Yonah
Gil Beach
Magen David Synagogue
Big Fashion Mall Ashdod
Metzuda Beach
The Corinne Mamane Museum of Philistine Culture
Ashdod Museum of Art – Monart Centre
Etgarim Lakhish Park
---
10 Places to visit in Malaysia
Let's explore remains of 15 Famous Tourist Places to Visit in Israel.
Beer Sheva / Beer Sheba
Population: 186,600
Area: 117.5 km²
Beer Sheva or Be'er Sheva is the largest city in the Negev desert of southern Israel. It is often known as the "Capital of the Negev". Tel Beer Sheva, an archaeological site containing the ruins of an ancient town believed to have been the Biblical Beersheba, lies a few kilometres east of the modern city. The site was probably chosen due to the abundance of water, as evidenced by the numerous wells in the area. According to the Bible, the wells were dug by Abraham and Isaac when they arrived there.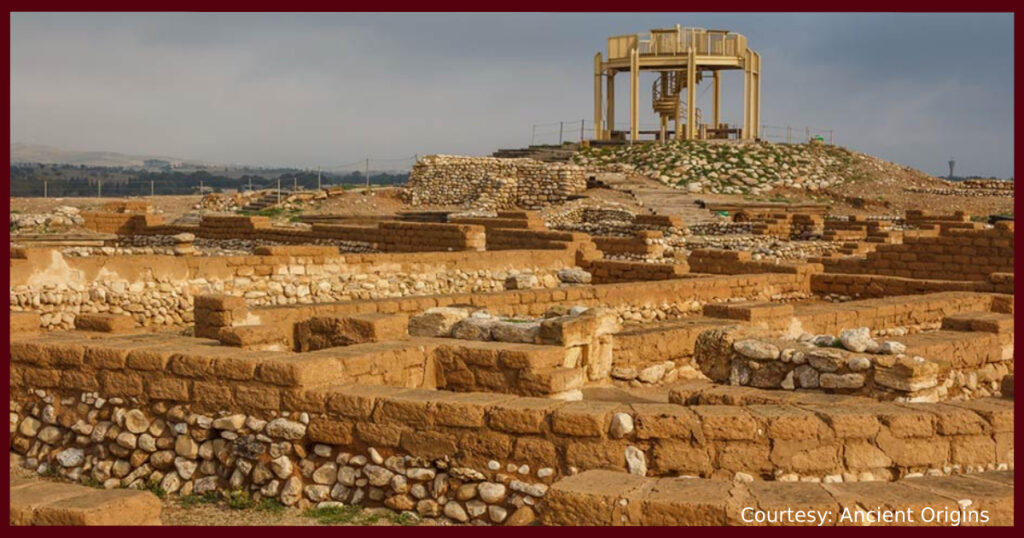 Places to Visit in Beer Sheva
The Old Turkish Town
Israel Air Force Museum
The Bedouin Market
Tel Beer Sheba
B7 Art Experience
Old Mosque
Negev Desert
---
Netanya
Population: 171,676
Area: 28.5 km²
Netanya which means "The God's Gift" is less crowded city with beautiful beach spanning from the north to south. The city offers war memorials, chic galleries, and worthy museums. The seaside town of Netanya attracts tourists in with its beautiful sand beaches and lively atmosphere.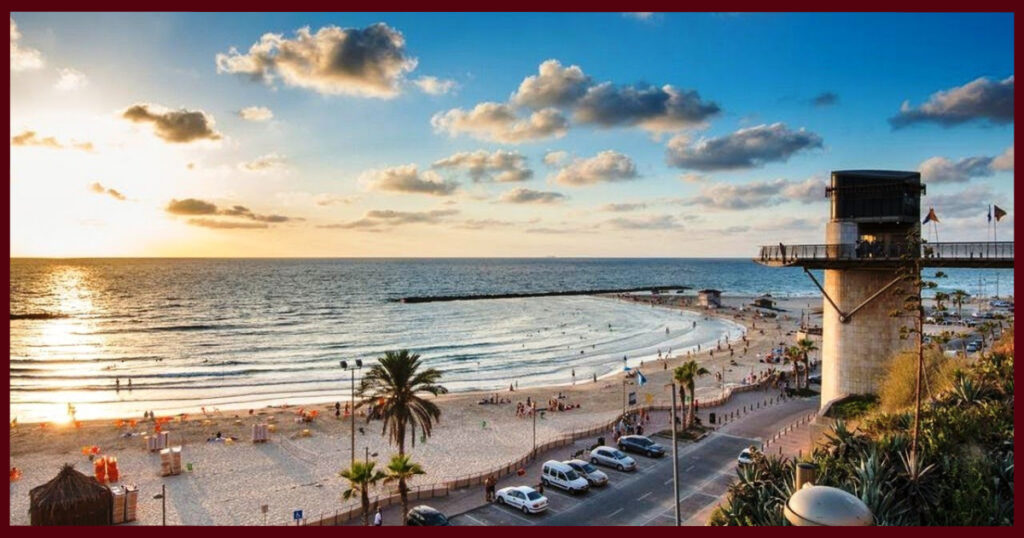 Places to Visit in Netanya
Victory Monument
Alexander Stream Hof Bet Yanai National Park
Planetanya Netanya Israel
Ir Yamim Mall
Splinter
Netanya Museum
Antique & Collectors Weekly Market
Shefayim Water Park
Sironit Beach
Inter Active Atzmaut Square
---
Rehovot
Population: 132,671
Area: 22 km²
Rehovot is a small city in central Israel and home to many industrial plants. Among them are the Tnuva dairy plant, the Yafora-Tavori beverage factory, and the Feldman ice cream factory. Few major attractions of the city are Ayalon Institute, Palmachim Beach and the Bravdo Winery. You can explore the streets and markets of the city and get the taste of some mouthwatering street food of Israel and learn more about the local cultures and traditions.
Places to Visit in Rehovot
Ayalon Institute Museum
Palmachim Beach And National Park
Clore Garden of Science
The Levinson Visitors Center
Nevo
Rehovot Winter Puddle
Bravdo Winery
Weizmann House
---
Caesarea
Population: 5,343
Area: 35 km²
The Caesarea City (Hail Caesar) was dedicated by Herod the Great to Caesar Augustus more than 2,000 years ago. An incredible ancient city Caesarea is rightly seen as one of the very best tourist attractions of Israel. With its pastiche of Roman, Byzantine and Crusader architecture and its prime position on the coast between Tel Aviv and Haifa, Caesarea is simply stunning. Antiquities park is what tourist find attractive from Herod's extensive building campaign.
Places to Visit in Caesarea
Theatre at Caesarea National Park
Caesarea National Park
Aqueduct of Caesarea (Mei Kedem)
Speculo
Segs Segway Tours
Old City Gallery – Caesarea
Caesarea Maritima Museum
Caesarea Harbor National Park
---
Nazareth
Population: 64,800
Area: 14.12 km²
The largest city in Galilee is known as the Arab capital of the country due to predominantly Arab citizens. Since the Bible says Nazareth was the home of Joseph and Mary, City has religious identity for Christians. This ancient city is where the angel Gabriel appeared to tell Mary she would give birth to Jesus. Since then, Nazareth is called the cradle of Christianity. Beautiful streets and breathtaking local market views are main attractions of tourist.
Nazareth is rich in archeological, historical, cultural and spiritual sites. Irrespective of your faith in religion, you will surely praise the picturesque beauty and history of the sights, the architecture, and the unique atmosphere of the city.
Places to Visit in Nazareth
St. Joseph's Church
Nazareth Village
Mary's Well
Mount Precipice Lookout Point
Holy Caves of Nazareth
The Ancient Bath House
Old Market
Christmas Market
---
That's end of 15 Famous Tourist Places to Visit in Israel. If you've missed any city, click on the link below to navigate again.
Quick Navigation: Popular Cities to Visit in Israel
People also search for
Afula, Israel
Bat Yam, Israel
El'ad, Israel
Givatayim, Israel
Hadera, Israel
Kfar Saba, Israel
Kiryat Ono, Israel
Ma'alot-Tarshiha, Israel
Netivot, Israel
Nof HaGalil, Israel
Qalansawe, Israel
Ramat HaSharon, Israel
Sakhnin, Israel
Tayibe, Israel
Tiberias, Israel
Have you ever been to any cities of Israel? What's your views on list of 15 Famous Tourist Places to Visit in Israel? Please tell us in the comments below.